Nancy's Kitchen Cooking Class
Peranakan cooking is the result of blending Chinese ingredients with various distinct spices and cooking techniques used by the Malay/Indonesian community.

Experience to cook in the Kitchen. Where Nancy will be teaching step by step, full hands-on guide, tips and tricks of cooking like a Peranakan household.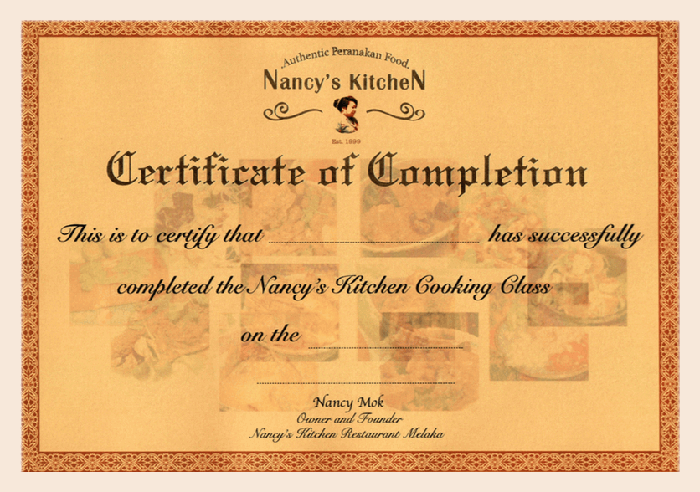 Session
It is located on the 3rd floor of our restaurant. We conduct our session on weekdays (excluding Tuesday & Peak Holiday Period). Time can be customized and required advanced booking to Nancy's schedule.

**Regularly you can choose the 11:30 am or 3:00 pm slot.**
Duration
Nancy guides each dish at a time for your masterpiece to turn out perfectly. It would normally take up to 45 minutes per dish.


**Maximum participation per session is 6 persons**
Dishes
You will each hand on one dish. So the more people in your group, the more kinds of dishes you'll learn.
The dishes to choose from are :
Meat
Chicken Candlenut (Ayam Buah Keras)
Chicken with Bean Paste (Ayam Pongteh)
Peranakan Curry Chicken (Kari Nyonya)
Rendang Chicken (Ayam Rendang)
Seafood (Choose either Prawn or Fish)
Prawn/Fish with Coconut Milk (Udang/Ikan Lemak Nenas)
Prawn/Fish with Tamarind Sauce (Udang/Ikan Gerang Assam)
Vegetable (*Vegan customized)
Mixed Vegetable with Coconut Milk (Sayur Loday)
Nyonya Mixed Vegetable (Nyonya Chap Chai)
While Dining Your Masterpiece, We Will Also Include
Popiah
Any of Our Vegetable Dish
Calamansi Juice
Steam Rice